Our Plugin's Features
Apart from the main plugin features described on home page our plugins offers several other useful and much needed features to provide full control & flexibility to site owners for different functionalities.

Fully Responsive Google Maps
Both delivery area map global map & product availability maps on product page are responsive.

Individual Status On Cart
Customers can see individual delivery status on cart page for all products

Take Delivery Areas Backup
You can take backup for your created delivery areas if you want with just one click.

Extensible & Customizable
This plugin is fully extensible and customizable to achieve custom business requirements.
This plugin is built by taking into consideration the valuable feedbacks of hundreds of our clients. We are continously adding new features in the plugin to make it even better for our customers.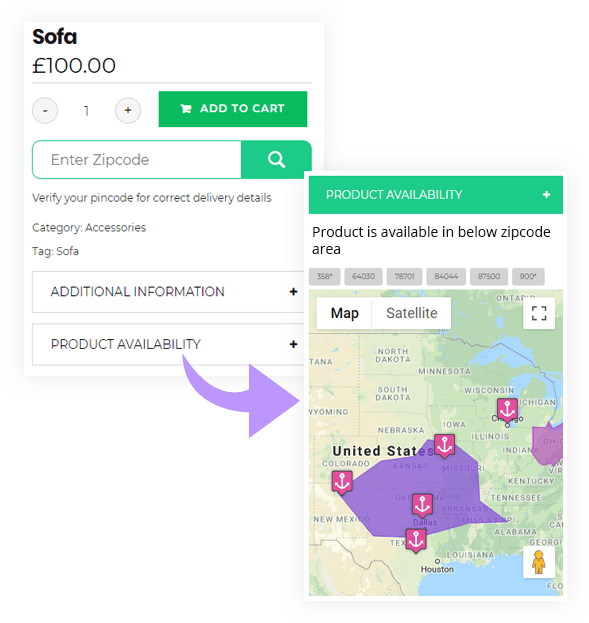 Display Delivery Areas For Individual Product
Site visitors can see all the delivery area of any particular product by going to product details page and then navigate to a new "Product Availability" tab which is generated by our plugin.
A responsive google map under that new tab will display all the delivery areas for that particular product beautifully.
Zipcode locations will be displayed with help of markers.
Delivery areas specified by drawing will also be displayed.
Visitor can also use autosuggest to find locations easily.
Map is fully responsive and snazzy maps can be applied.
Unmatched & Exceptional
This is the first & only premium plugin in the market providing solution for checking delivery possibilities of product for woocommerce powered stores. We are continously making this plugin even more feature rich for you!
First & Only Plugin For Said Purpose
Customers Enquires Delivery
Admin Defines Delivery Area
Display Delivery Form Like Brands
Display Delivery Areas On Map
Customization Services Available
All Five Star Ratings & Reviews
Hide Delivery Area Form For Some Products
If you want to hide delivery area enquiry form for some specific products, you can do that from the default product edit screen in the backend. You can also disable product availability tab to be created for some products on product detail page if you want.