WooCommerce Delivery Area Pro
Allows Visitors & Store Customers To Verify Product Delivery Location Before Actually Placing The Order!
Our Plugin Features
Every big ecommerce website like Amazon, Ebay, Alibaba empowers their store visitors to enquire delivery of product before placing order. For woocommerce stores, we have crafted a premium plugin for achieving the same!

Six Ways For Defining Delivery Areas
Admin can use any of 6 methods to define their store's delivery areas.

Works On Product, Shop, & Checkout
Visitor can verify delivery area from any of four woocommerce page.

Display Delivery Areas On G-Maps
Display your store's delivery areas on google maps beautifully.

Display Delivery Area Form On Homepage
Display delivery enquiry form on homepage just like big ecommerce sites.

Beautiful, Responsive Form Templates
Admin can choose form template of his / her choice & can customize it.

Restrict Orders On Checkout Page Easily
Based on zipcode provided in checkout form, restrict orders!
Visitors Can Verify Delivery From Product & Shop Page
Visitors will see delivery area verify form on product, shop, cart & checkout pages. They can easily check if a product can be delivered to the location specified by them before placing the order.
It can also be displayed on homepage / anywhere. Food orders processing & other e-commerce websites takes extensive use of it.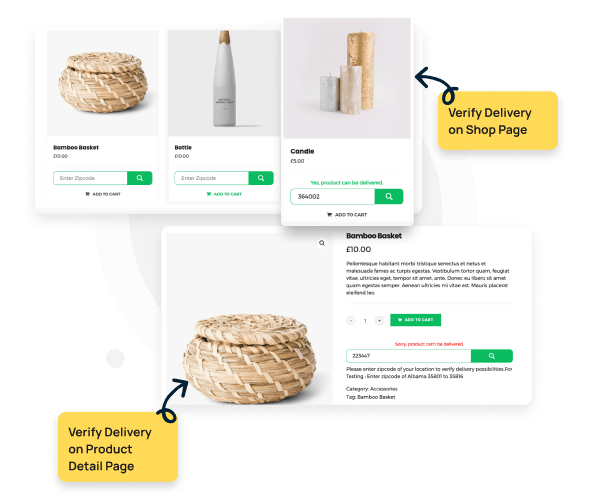 Six Easy Methods For Defining Delivery Areas
Delivery area can be defined by zipocode, by drawing on google maps, by country, by continent, by sub-continent & by specifying store location address with radius kilometer range for delivery.
Display Delivery Areas Using Google Maps
Site admins can display their store's delivery areas to their customers with help of google maps. The map can display markers and shapes to indicate different delivery areas defined in backend.
Beautify google maps with snazzy maps skins easily from backend. Admin only needs to put a shortcode, thats it!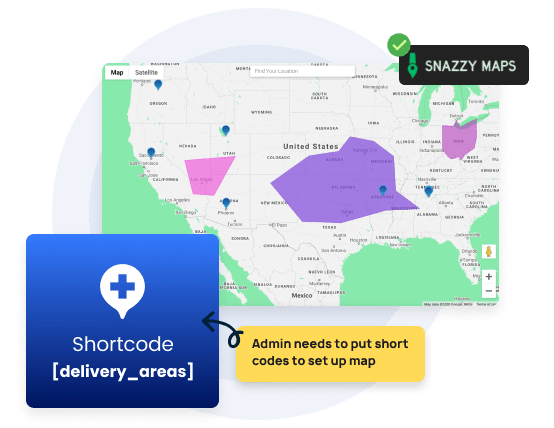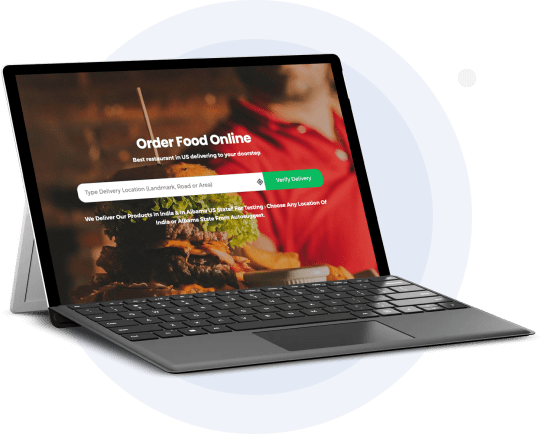 Display Delivery Area Form On Homepage
Admins can easily display delivery area verification form on homepage. Food orders processing & major e-commerce websites takes extensive use of it.
Admins can choose form template from back-end and can also change the UI aspects easily.
Beautiful, Responsive & Customizable Forms
Delivery area verification form displayed on woocommerce pages and the global delivery area form displayed with help of shortcode both forms are fully responsive & customizable from backend.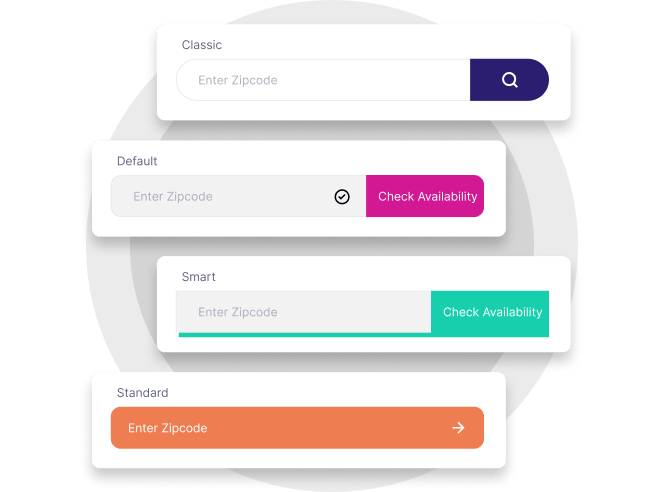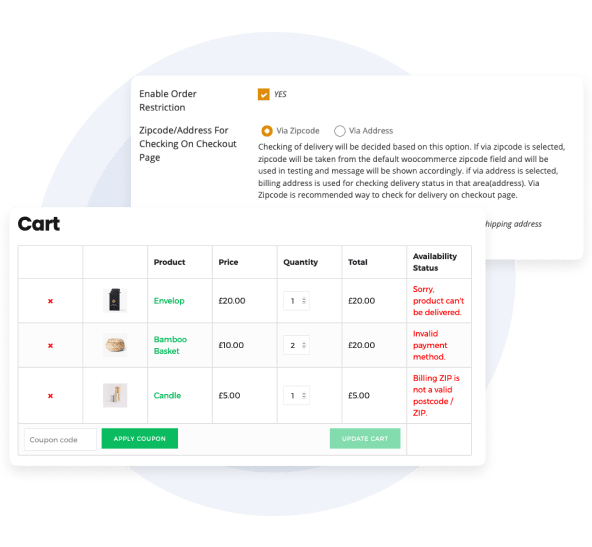 Restrict Customers To Place Wrong Order On Checkout
Admins can restrict customers to place wrong orders if the zipcode specified in zipcode field in checkout form is out of your store's delivery areas.
The zipcode provided in the checkout form will be searched in all your delivery areas. If not found an error message can be displayed and a wrong order can be prevented to be placed.
Still Do Not Get What Exactly You Want ? Lets Customize!
We do lots of customizations for our clients around the globe. If this plugin lacks some functionality or needs modification, feel free to reach us. We can customize our plugin to meet your exact business requirements. We take our client requests very seriously.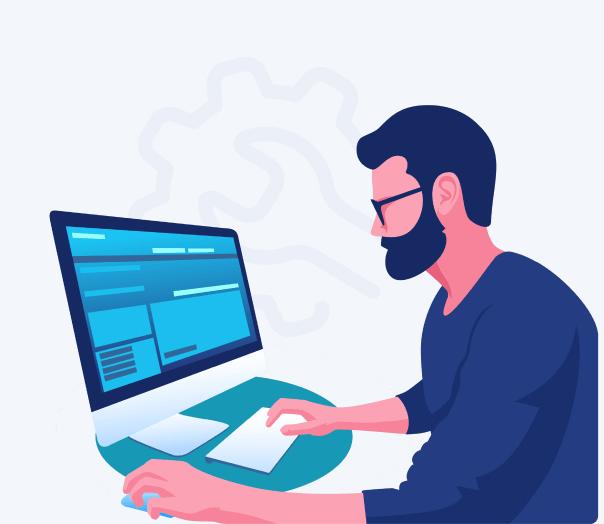 Client Testimonials
Our customers loves our plugin, customization and support services. Please have a look on what people had to said about our product. We are commited to keep our customers not just satisfied but happy with our work.
"Customer support is great! Answered our questions quickly and kept up with many replies and explanations. Dig it! Awesome app too, a must buy for us."
hanaanhafeez
"I have a project on stand by for year until this pluging come live. The last update 1.0.5 fix the "bugs" and now works as intended. 100% recomendable. My site need a very specific zone of delivery and draw the zone on a map it the BEST."
Rojesaga
"Best product and coder EVER"
Kenang123
"Many thanks to the support and this plugin. This is a really good plugin and I would highly recommend it. The plugin works really well but it didn't do exactly what we wanted, but with great support they helped us achieve exactly what we wanted. Many thanks for your great support and plugin"
Richardmerry
"Everything I wanted. It is amazing, you draw your polygon and it can check an actual address without even using a zip code! Which is perfect as we going to use this for a local delivery zone in which zip codes are not the determining factor."
shuety719