Delivery area verification form displayed on woocommerce pages form is fully responsive & customizable from plugin settings. Here you can customize the delivery area form UI and you can choose a template as per your requirement.
Please follow these steps to customize delivery are form template and form UI settings.
CHOOSE TEMPLATE FOR DELIVERY AREA ENQUIRY FORM :
Step 1: Please navigate to the "WooCommerce Delivery Area Pro -> Plugin Settings" page scroll down to the "Choose Template For Delivery Area Enquiry Form" and select form template according to your choice.

Step 2: After a small process please click on Save Settings, you could see your selected form layout displayed on shop page.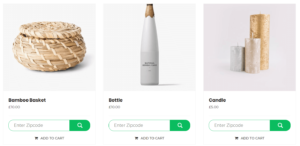 DELIVERY AREA FORM UI SETTINGS :
You could change form UI settings using below given settings as per your requirements.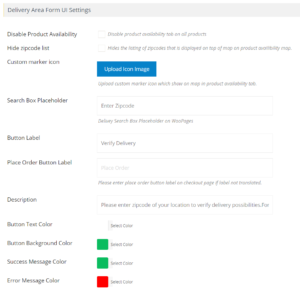 Disable Product Availability: Please enable this checkbox to hide the product availability tab which is displaying on single product page. It's hide product availability tabs on all product pages.
Hide zipcode list: Please enable this checkbox to hide the listing of zipcodes that are displaying on top of the map on product availability map.
Custom marker icon: You can set a custom marker icon by uploading icon which shows on the map in product availability tab.
Search Box Placeholder: Enter here text to display placeholder in the delivery search box on woocommerce pages
Button Label: Enter text here to change the button label of delivery area form. Like: 'Check availability'
Place Order Button Label: Please enter the place order button label on the checkout page.
Description: Verify your Pincode for the correct delivery details.
Button Text Color: You can change button text color from here.
Button Background Color: You can change the button background color from here.
Success Message Color: You can change the success message color from here.
Error Message Color: You can change the error message color from here.