WooCommerce Delivery Area Pro allows visitors and store customers to verify product delivery location before actually placing the order. The delivery area can be defined by Zip Code, by drawing on google maps, by country, by continent, by sub-continent & by specifying store location address with radius kilometer range for delivery.
In zip code you can also use the wildcard character (*) to specify zipcodes in a short form that has a similar starting pattern. For eg. providing zipcode like FL* with cover all UK postcodes starting with FL.
Please follow these steps to setup product availability collection for shipping 'By ZipCode Area'.
Step 1: Please navigate to the "WP Delivery Area Plugin -> Add Collection" page, enter your product collection name and select products as per your requirements.
Step 2: Please navigate to the "Define Your Store Delivery Area" section go to the "Define Delivery Area By" and select the 'By ZipCode', choose by zipcode, there is one more textarea visible having label 'Enter Zip Codes'. Now enter your delivery area zip code in 'Enter Zip Codes' textarea. (apply comma separated zip code).
Step 3: You have zip codes which are having similar starting pattern, instead of writing the complete zip code. You can write it in short form using the wildcard character (*).
For eg. Your provided zipcode is 36001,these zipcode series start with the 360. You can write this as 360(*) is cover all US postcodes starting with 360.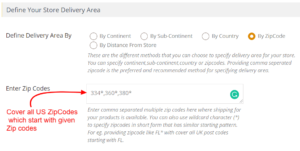 Step 4: Click Save Collection.